When it comes to beautiful places, Delhi is a city that is blessed with many of them and the list is never-ending. Right from the crowded streets, and modern flyovers to the historic monuments, this city is a Kaleidoscope of cultures, traditions, and ancient treasures. Being a hardcore Delhiite, I love seeing the good parts of the city because it's always worth it. And also these beautiful places add color to my Instagram as well.
In this social media generation, it has become really important to find that perfect angle and lots of filters to stand out in the crowd. And Delhi is the perfect place to add that right aesthetic to a boring Instagram feed. So just in case you don't feel lost in the rat race, here is a list of my favorite (and everyone's favourite) Instagrammable places to visit in Delhi which are just perfect to fit in that feed.
9 Instagrammable Places to Visit in Delhi
Pick out which one is going to be your next location for that perfect shot! Get set click.
1. Humayun's Tomb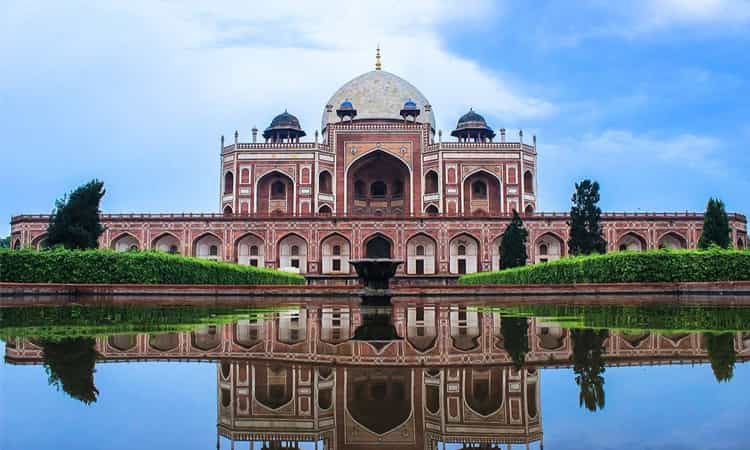 There is no doubt that there are plenty of historic monuments in Delhi, but Humayun's tomb is my personal favorite. This is a spectacular mausoleum that was built around 1572 AD under the rule of Mughal Emperor Akbar. Situated close to Nizamuddin in the east of Delhi, this is one of the best-preserved Mughal monuments. Spread across a wide area, this place has the perfect architecture and walls to add aesthetics to your Instagram wall.
How to Reach Humayun's Tomb by Metro: The nearest metro stations are Hazrat Nizamuddin, Jangpura, and JLN Stadium.
Entry Timings: 8 AM-9 PM
Entry Fee: INR 10 per head (For Indians), INR 250 (For Foreigners)
2. Qutub Minar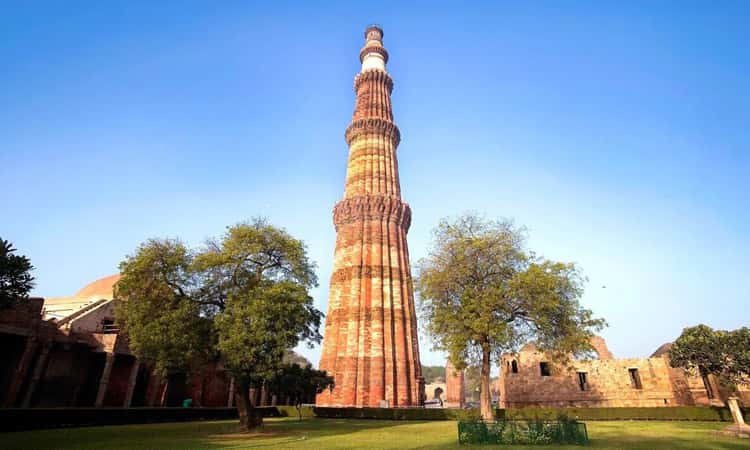 Well, I must say that Qutub Minar is a place that is close to the heart of every Delhiite. Isn't it? This gigantic Minarete is located behind the narrow lanes of Mehrauli and is known as one of the best places to visit in Delhi. And do you know that this UNESCO World Heritage site also holds the honor of being the "world's tallest brick tower"?
How to Reach Qutub Minar by Metro: The nearest metro station is the Qutub Minar which falls in the yellow line.
Entry Timings: 7 AM-5 PM
Entry Fee: INR 30 for Indians, INR 500 for foreigners
3. Rashtrapati Bhawan

The Rashtrapati Bhawan or the "President's House" is one of the finest architectures by Britishers. Spread across a vast area of 5 acres out of the 330-acre region, this is one of the must-visit places in Delhi. But getting inside the Rashtrapati Bhavan is not that easy as one needs a valid ID proof to enter the premises.
Things to know: In February, the Mughal Gardens inside the Rashtrapati Bhavan opened its gate to the normal public. People can witness a vast variety of flowers from all around the world in one place.
How to Reach Rashtrapati Bhavan by Metro: The nearest metro station is Central Secretariat on the yellow line.
Tips: Make a prior booking to enter the Rashtrapati Bhawan and carry a valid ID proof (except a pan-card).
4. Rail Museum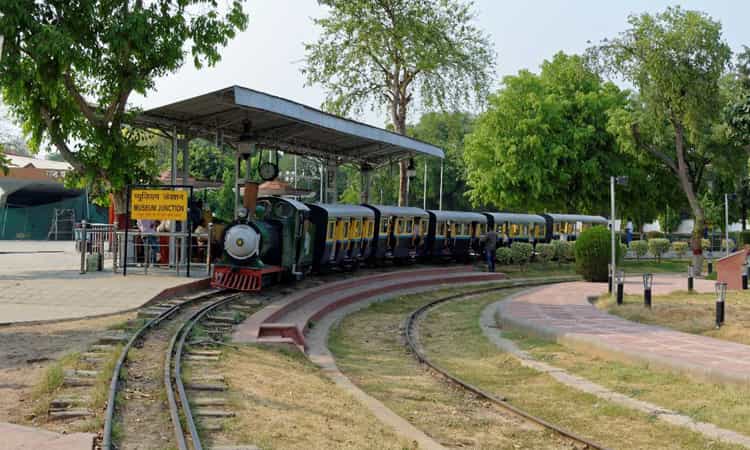 Does the mention of the train excite you? If yes, then make sure to not miss out on this one-of-a-kind rail museum located in the posh area of Chanakyapuri. And when I say that one of a kind, then trust me I have enjoyed an amazing day at that place. This places some of the most historic models of trains and also some of the modern inventions that are turning the pages of rail history. And there is also a toy train which gives a ride to the entire museum. Also, what can be better than getting a picture like this in front of a life-size train? I bet this will in your list.
How to Reach Rail Museum by Metro: The nearest metro stations are Dhaula Kuan (Pink Line) and INA or Jor Bagh (Yellow Line).
Location: Shanti Path, Chanakyapuri, New Delhi- 110021
Timings: Tuesday to Sunday – 10 a.m. to 5 p.m.
Entry Ticket: Weekdays – Rs.50/adult, Rs.10/child, Weekends & Holidays – Rs.100/adult, Rs.20/child
5. Safdarjung Tomb

If you're thinking that you will run out of places for a photoshoot in Delhi, I would ask you to think again. As you all know by now I love exploring the historical side of this Capital city, here is another magnificent architecture resting just in the vicinity of the Lodhi Colony. Also known as the Safdarjung ka Maqbara, this is a garden tomb which is adorned by a beautifully constructed 18th-century mausoleum. Standing with all its marble and sandstone glory, this is said to be the last monumental garden tomb that reflects the Mughal architecture.
How to Reach Safdarjung Tomb by Metro: The nearest metro station is Jor Bagh (Yellow Line)
Location: Air Force Golf Course, Delhi Race Club, New Delhi, Delhi 110021
Timings: 7 AM-5 PM
6. Red Fort

There is no doubt that this gigantic fort made of red sandstone is a symbol of our Independence. Isn't it? But even before that, this massive monument held an important place during the Mughal era. Located right opposite the clumsy lanes of Chandni Chowk, this monument offers some of the finest views which should be captured without fail. Inside the fort, there are many key rooms which are named the "Diwan-i-Khas" and "Diwan-i-Am". Boasting some of the best sides of the Mughal architecture at every corner, this is a place that every person must visit in Delhi to get that perfect Instagram shot.
How to Reach Red Fort by Metro: The nearest metro station is Red Fort metro station (Violet Line)
7. Waste to Wonders Park

This is a recent addition to the list of Instagrammable places to visit in Delhi. And trust me when I say that it is Instagram-worthy. Who would believe that there can be a place where the miniatures of the 7 wonders are made out of waste? Yes, and I am not kidding. Located just behind the Nizamuddin railway station, this park has some of the best out-of-waste miniature monuments that people admire all around the world. My favorite was the Eiffel Tower because it looked so real. But beyond that, you can find structures of the Taj Mahal, the Leaning Tower of Pisa, and other wonders of the world.
How to Reach Waste to Wonders Park by Metro: The nearest metro station is Nizamuddin Metro Station (Pink Line). From here one has to take an auto to reach the park.
Timings: 10 AM-9:30 PM (Tues-Sun), Monday (Closed)
Ticket Price: INR 25 for children (3 years and above), INR 50 (Adults), Free (Children below 3 and Senior Citizens)
8. Old Delhi

And who doesn't want to visit Old Delhi when in the capital city? This is the heartbeat of Delhi which is known for its dingy lanes, delicious food, and a history that is close to the heart of every Delhiite. Starting from the Nai Sadak to the famous Karims, there are more than enough reasons to visit this side of Delhi. And when I say it's one of the Instagrammable places to visit in Delhi, trust me it is. You will not believe me until you go and explore its lanes yourself.
How to Reach Old Delhi by Metro: The nearest metro station is Chawri Bazar and Chandni Chowk (Yellow Line).
9. Agrasen Ki Baoli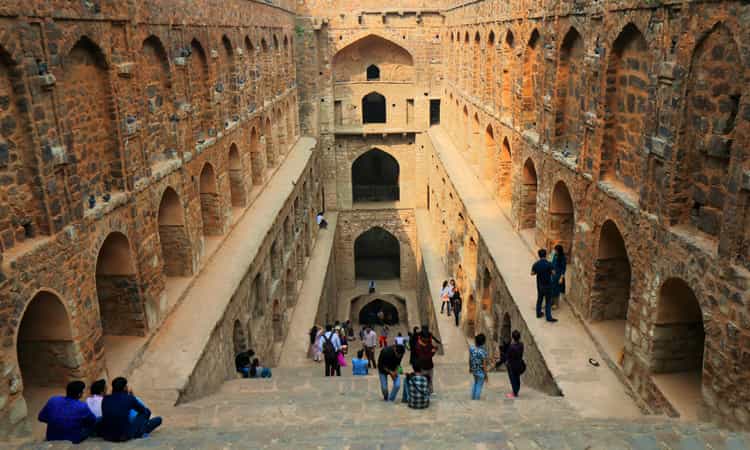 Who would imagine that there could be a stepwell just amidst the crowded roads of Connaught Place? It seems like a surprise, but just in the silent lanes lies the Agrasen Ki Baoli which can be very well recognized by the film P.K. This is quite a beautiful place to go for a photo shoot and enjoy the silence if you're visiting in the morning. Holding a rustic charm, this place tells a story itself.
How to Reach Agrasen Ki Baoli by Metro: The nearest metro station is Barakhamba metro station (Blue Line).
Delhi is full of surprises and this is the reason that no matter where we go, Delhiites can never fall out of love with this city. Am I exaggerating it? I bet, No. So these were the places that I found some of the best and my favorite Instagrammable places to visit in Delhi which one must go and explore if they want to see the real capital city.